10th Annual Minnesota Art Car Parade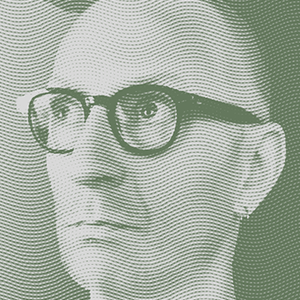 by mister jason™ on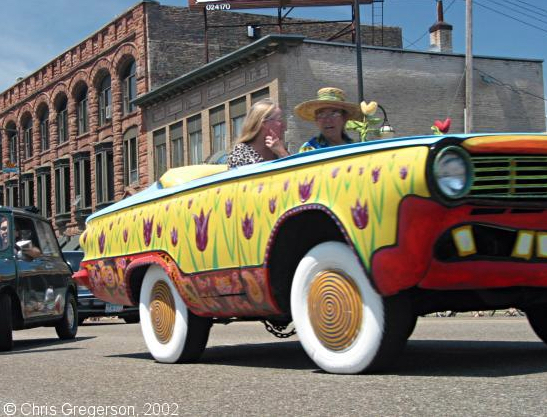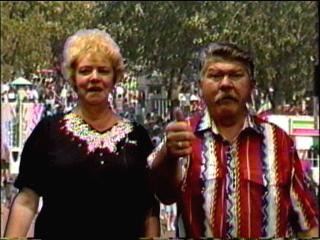 Grand Marshalls, Viva & Jerry
I was on the way home form an especially rump-punishing mountain biking session near Cedar Lake as I approached the intersection of Lake & Lyndale.
It was then that I I saw local cable access cult icons Viva and Jerry sitting in the back of a bright red convertible. Slightly shaken, I soon remembered that the 10th Annual Minnesota Art Car Parade (sponsored by Intermedia Arts) was today. I got the trademark thumbs up from Jerry, then pedaled the remaining 2 blocks home to jettison my bike and such.
I had made it home and back just in the nick of time to catch the parade in it's entirety (a first). It's grown a little each year, but this year was certainly the most put-together I've seen. The "Minnesota Art Vehicles" scenesters were out in full force. They were in the company of many other entries — both local and from across the nation. (Including Tiny Tim's former car and Savage Aural Hotbed performing atop their Van o' Noise)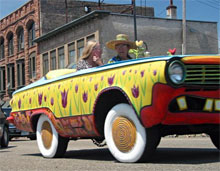 Photo of Tiny Tim's Tulip Car courtesy of Chris Gregerson, Phototour of Minneapolis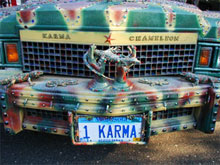 More photos of Shawn Allison's Karma Kameleon are here.
Oddly enough, the parade website only has photos of the participants, not their cars. How artsy…and unfortunate, as my digicam is FUBAR.
If you snapped any good photos of this year's parade, post a URL to the comments or email them to me (jason (at) braintoast dotcom) and I'll post them for you.